The Art of Digital Design 2 Blog Hop has ended. Thank you for stopping by. I will be participating in the May 2012 Blog Train (starts May 1) Be sure to 'like' me on Facebook and download a free digital goodie over there (changes periodically) You can find many of my digital designs at
Natural Designs in Scrapbooking
WELCOME TO THE
ART OF DIGITAL DESIGN 2 BLOG HOP
.
In 2011, I continued on my digital design journey and was blessed to participate in another advanced class at
jessicasprague.com
, taught by Carina Gardner ~ The Art of Digital Design 2. You know I love to learn - and believe me, the AoDD2 class did not disappoint. Several of the designers from this class created digital goodies for you using a luscious color palette!
)
Want another freebie? Head on over to
"by the Shore designs" facebook page
, be sure to "like" me - and download this fun coordinating alpha. (And I have more freebies planned for you in the near future over on facebook)
The full list of designers is below and they each have a wonderful coordinating freebie for you.(If at any time you get "lost" on this bloghop, please feel free to hop back here and you can go to each designers blog with a simple click) Your next planned stop on this blog hop is
Crumpled Paper Designs
.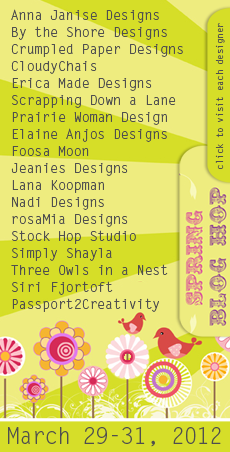 I hope you enjoy the freebies that these designers have created just for you. Please take the time to leave a little love (comment) and let them know you appreciate their efforts and generosity. (And we have designers participating from around the world, so please be patient if someone's contribution is not yet available)
This blog hop only lasts through the end of March (as does the March Blog train) Download now and make sure you don't miss a single digital goody!
Enjoy your spring and all the blessings that surround you - and I hope that these digital freebies will help you create some fabulous layouts! Have a super day...by the Shore.